What's New
Message to our members from CEO Van Bowden:
Our main concern at Holley Credit Union is the health and safety of our members, employees, and communities during this unprecedented time. There continues to be rising concern and uncertainty surrounding COVID-19. We will continue to monitor the COVID-19 situation closely and the recommendations from the CDC, WHO, and the TN Department of Health.
Beginning Thursday March 19, 2020, we will be temporarily redirecting traffic through our drive thru. Lobby access can be scheduled in advance by appointment

All deposits and withdrawals will be handled through the drive-thru. Our staff will be accessible by phone, again lobby access can be scheduled in advance by appointment. Our night drop box will be checked several times throughout the day for members that wish to use it. For general questions please call us at 731-644-9031 or email at hcu@holleycreditunion.org.

During this time please take advantage of our online banking and ATM. If you are not signed up for online banking let us know and we can get you set up!

Holley Credit Union wants to do its part to help our friends and neighbors, while providing a safe environment to conduct your financial business. Thank you for your patience and joining us in this effort to enhance the safety of our communities.


---
New Mobile App Available
Holley Credit Union has a free app that is available in the app store and works with Apple and Android platforms as well as all tablet platforms. The mobile app provides links to current rates, branch locations and directions, Push notifications associated with the app allow you to get important news messages from the credit union. The app can be downloaded for free in your phones app store or by using the links below.



---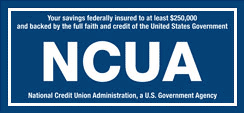 Notice of Changes in Temporary NCUA Insurance Coverage for Transaction Accounts
By operation of federal law beginning Janurary 1st, 2013 funds deposited in a noninterest bearing transaction account no longer will receive unlimited deposit insurance converage by the Nation Credit Union Administration. Beginning January 1st, 2013, all of a depositor's accounts will be insured by the NCUA up to the standard maximum deposit insurance amount ($250,000), for each deposit insurance ownership category. For more information visit http://www.ncua.gov.
---