About Holley CU
History of the Credit Union
Holley Credit Union has been serving our members since 1952. The credit union was originally established to serve the employees of the Holley Carburetor Plant.

Today we serve employees of any industry in Henry, Carroll. Stewart, or Weakley Counties not being served by a credit union, any employee group in these counties, all city and county workers in these counties, retirees, residing in these counties, members of their immediate families, not necessarily residing in the same household, employees and members of the Henry County Historical Society as an associational group.

It is this common-bond, teamwork concept that makes your credit union unique in the world of finance. The "People helping People" philosophy of credit unions is known around the world. Credit Unions are set up as a financial cooperative; credit union profits are given back to our members by way of better interest rates, lower fees, and convenience services.

We are proud to be a part of this cooperative spirit and invite you and your family to take advantage of our high quality financial products and services. Today, Holley Credit Union serves over 7,000 members. The Credit Union is located at 1107 Mineral Wells Ave, Paris, TN 38242
---
Federally Insured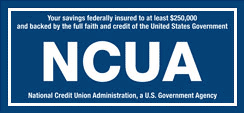 As a member of the Credit Union, your savings are federally insured to at least $250,000 and backed by the full faith and credit of the United States Government. National Credit Union Administration, a U.S. Government Agency.
---
The Board of Directors
The board of directors is elected by the membership for a three year term during our annual meeting. Board members serve on a voluntary basis. They are mainly responsible for writing policies, setting rates and establishing services for the betterment of the membership.